Please get involved in the work of Malawi Fruits by making a donation today. Your donation will make a difference to us as we support the people of Northern Malawi to help themselves through developing sustainable businesses. By giving a donation today, you can change tomorrow for children and families who need a helping hand. By enabling them to grow and sell crops profitably in order to provide basic education and health care for the next generation.
We promise that we will spend your donation wisely and keep you informed about the progress that we are making on your behalf.
Click here to download our Gift Aid Form
You can easily make a donation from any bank app or online to S.Code 83-25-45 Acc. 10839823.
Even easier use the Just Giving donations button below, or even start your own fundraising for Malawi Fruits..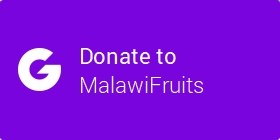 Thank you.